Multi-purpose LED skirting board made of aluminium that can be used as a decorative listel, minimalist skirting board or top trim on walls with plasterboard or ceramic tiling.
The front flange protects the edge of the piece it accompanies and serves as a guide for installation with pieces of different thicknesses. Its flat base with a slight slope makes it easy to clean and allows it to be installed as a skirting board or top finish.
Optionally, a LED strip can be installed in its discreet inner hollow, giving the profile a double functionality with a high decorative charge.
Profiles that make it possible, simply and without the need for a diffuser, to create comfortable atmospheres through the use of indirect lighting. It has a finishing cover for a perfect finish to the installation.
Translated with www.DeepL.com/Translator (free version)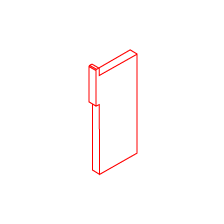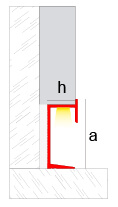 Dimensions
Technical characteristics and tests
Alloy: 6063 / T5
Stress test: 110-130 MPa - EN 755-2
Tensile strength: 160-175 MPa - EN 755-2
Elongation (%): 8%
Fire resistance: M0 (UNE 23-727-90)
Abrasion resistance: Very good
Corrosion resistance: Very good
Appearance and color: Excellent - EN 12373-1
Anodizing: Qualanod seal
Materials
Baseboard profile made by extrusion of aluminum. The anodizing process improves the corrosion resistance, mechanical resistance and appearance of profiles. It has the quality seal Qualanod, which guarantees the quality of the process and the resulting profiles. This seal regulates several tests: appearance and color, thickness measurements, sealing and impregnation control, abrasion resistance, lightfastness, acetic saline chamber and nitric acid immersion.
The aluminum has excellent chemical, physical and mechanical properties. It is lightweight, tough, ductile, malleable and highly durable
Installation
This LED baseboard can be installed as listel, skirting board or top finish for tiled or plaster boards. The installation steps are similar in all cases. The profile can be installed in ceramic or plasterboard walls.
Spread thin-set mortar and place the tiles until the desired height. Place the profile, align it to the wall and continue with the tiling. You can complete the whole tile installation and leave the hollow for the profile and install it after by using the frontal flap as a guide. The tiles should be strongly adhered to the wall and its weight never should rest on the profile.
Finally, clean the leftover material and let dry.
If you need the light function, you can do it yourself by using the existing LED kits on the market.
Cleaning and maintenance
The product must be cleaned periodically with a soft cloth. If you use a neutral liquid cleaner, you must rinse the profile with cold water and dry it to remove the humidity excess. The persistent dirtiness can be removed by using cleaning approved agents lightly abrasive or a grid covered with polished powder neutral.
Steel wool, abrasive cleaners, souring products as well as strong acids (hydrochloric and perchloric),strong bases (caustic soda or ammonia) or carbonated solutions are not recommended. Citric acid is neither recommended because disolves the protective layer of the surface of aluminium. Waxes, petrolatum, lanolin or similar substances are not appropriate. Solvents containing haloalkanes (hydrofluoroether and chlorinated solvents) and curing accelerators containing chlorides should not be used (use special accelerators free of chlorides).