This profile is suitable for both new construction and reform and for placement indoors or outdoors. Perfect for all types of buildings such as hospitals, universities, schools ... It allows the smooth passage of cars and stretchers thanks to its rounded geometry.

The profiles can be supplied drilled in one of their edges for fixing with screws to the support with an additional delivery time of one week.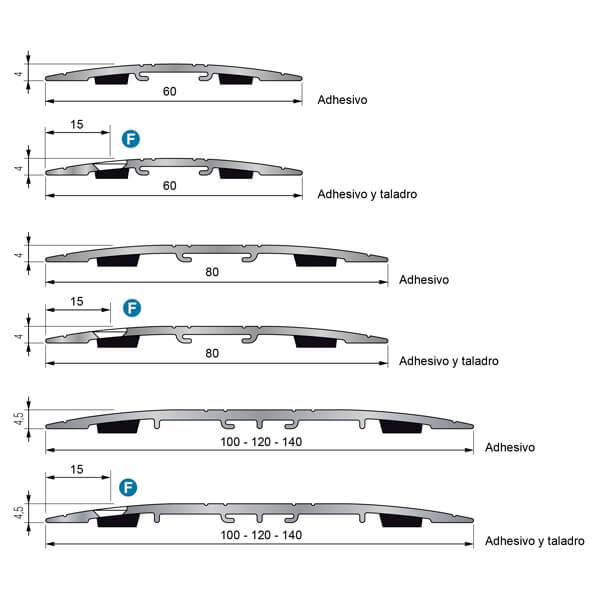 Applications
Buildings and construction elements are subject to deformations and geometric variations.
The arrangement of expansion joints contributes to reducing the effects that these variations have on the building as a whole, preventing the appearance of pathologies.
The CTE (Technical Building Code) in its DB-SAE (Building Actions), establishes that in concrete or steel buildings, expansion joints will be arranged so that there are no continuous elements of more than 40 m. of length.
It serves as protection and to embellish expansion joints on walls and floors both indoors and outdoors. Its flat, slightly smoothed curved exposed face allows the passage of cars, stretchers, wheelchairs or similar in a smooth way, without shaking.
Materials
Aluminum
Profile made by extrusion of aluminum. Its finish is anodized, mainly improving through this process its resistance to corrosion, mechanical resistance and appearance.
Aluminum is a material with excellent chemical and physical-mechanical properties. It is light, tough, ductile, malleable and highly durable. Its resistance to corrosion and fire is very good.
Butyl adhesive
The adhesive consists of two adhesive butyl rubber-based flexible thermoplastic adhesive bands bonded by applying heat. This high quality adhesive has excellent adhesion strength and flexibility, which allows it to accompany the movements of the substrates, maintains its properties for a long period of time, resists high temperatures, thermal variations and chemical agents. It does not contain any toxic or dangerous substance in its composition.
Load support
The CJS flashing is capable of supporting medium loads, including pedestrian traffic as well as the passage of cars and medium-weight vehicles with an pneumatic wheel.
Installation
The CJS flashing is easy to install once the floor or covering is finished. Due to its characteristics, it is ideal for placement in new construction or in rehabilitation and reform projects.
The profile is supplied with a built-in adhesive for quick fixing that can be complemented by a stainless steel fixing clip. Upon request it can be supplied with countersunk holes on one side.

Clean the surface where you are going to place the flashing and make sure that the profile is in good condition and free of dirt. If you want to install the profile with the stainless steel clip, insert it by sliding it into the slot for this purpose before proceeding to step 2.

Remove the silicone paper that protects the flashing adhesive

Place the profile on the joint and press for optimal adhesion. If you want you can use a rubber hammer.
Cleaning and maintenance
Cleaning should be done periodically with a soft mop. If you choose to use a neutral cleaning liquid, it should be rinsed with cold water and dried to remove excess moisture. Stubborn soiling can be removed with suitable mildly abrasive cleaning agents.
The use of steel wool, abrasive or pickling products as well as strong acids (hydrochloric and perchloric), strong bases (caustic soda or ammonia) or carbonated solutions is not recommended. Citric acid should also not be used as it dissolves the protective oxide layer on the aluminum surface. Waxes, petroleum jelly, lanolin or the like are not suitable. Haloalkane solvents (hydrofluoroethers or chlorinated solvents) and setting accelerators containing chlorides should be avoided (use non-chloride accelerators).