Stainless steel corner profil with 135º angle for exterior wall corners, which offers good protection for the edges of ceramic coatings. In addition to the decorative effect of the profile, it protects the tiles against damage caused by mechanical effects. Schlüter DECO DE can be combined with Schlüter QUADEC profiles for 90º exterior corners.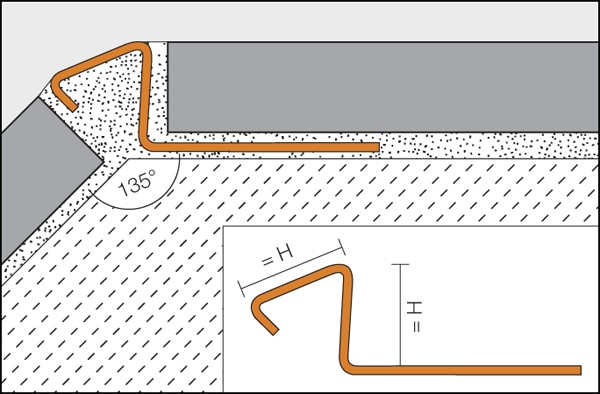 Material
Schlüter DECO-DE is available:
E = stainless steel
EB = brushed stainless steel
Material properties and application fields:
In certain cases, the suitability of the type of material must be checked according to the expected chemical or mechanical damage.
The Schlüter DECO-DE stainless steel butt plates are made of stainless steel sheet strips, V2A (material 1.4301). Stainless steel is highly resistant to mechanical damage and is especially suitable for areas that require high resistance to chemical products, such as in acid and alkaline environments, as well as in areas where aggressive cleaning products are used. Stainless steel does not resist all chemical attacks such as hydrochloric acid, hydrofluoric acid and concentrations of salts. Special attacks must be checked before the profiles are installed.
How to use
Choose Schlüter DECO-DE according to the thickness of the tiles.
Apply the adhesive with a notched trowel over the entire surface where the coating has to be placed.
Place the Schlüter DECO-DE stainless steel corner pieces by pressing the trapezoidal perforated fixing wing into the adhesive, adjusting the profile.
Cover the trapezoidal perforated fixing wing over its entire surface, filling all the gaps.
Place the tiles by pressing them and adjusting them to the same level of the profile (the profile should never protrude above the level of the tiles, the profile may be around 1mm lower). The tiles must be completely level with the profile.
Leave a joint of around 2 mm, which must be completely filled with grouting material.
Indications
The Schlüter DECO-DE stainless steel corner pieces do not require any special maintenance. For sensitive surfaces, do not use abrasive cleaning products.
The oxide layer that forms on the brass or aluminum surface can be removed with the help of standard polishing agents, although it will form again over time. Deterioration of the anodized layers can only be removed by repainting.
Stainless steel profiles obtain a shiny surface using chrome polishing products or the like. Stainless steel surfaces exposed to the weather or aggressive substances should be cleaned regularly using non-aggressive cleaning products. Regular cleaning not only maintains the clean appearance of stainless steel but also reduces the risk of corrosion. In no case can cleaning products contain hydrochloric acid or hydrofluoric acid. Contact with other metals, such as normal steel, should be avoided, as this can lead to contamination with foreign oxide.
The same applies to tools such as trowels or steel wool, which are used for the removal of mortar remains. If necessary, Schlüter CLEAN-CP cleaning polish is available.