Transition profile made of aluminum designed to avoid discontinuities in floorings such as low thickness ceramic , vinyl floorings or carpets. The profile has a wide and smoothed visible side with small grooved that favor the slide resistance. Available in anodized aluminum anod. matt silver. Delivered with countersunk holes to improve its fixing by using screws (not included). The inner part is reinforced to improve its load support.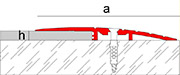 Dimensions:
a: 60 mm.
h: 5 mm.
Lenght: 2,50 m
Aplications
Ramp profile to avoid discontinuities between different floorings. This profile is reinforced on the rear, so is able to support traffic of loads. To be installed with screws to improve the fixing.This profile is perfect for rehabilitation or reform works as it is to be installed after finishing the work.
Technical Features
Alloy: 6063 (AA y ASTM / )L-3441 (UNE 38-301-89)
Fire resistance: M0 (UNE 23-727-90)
Abrasion resistance: Very good
Lightfastness: Excellent
Appearance and color: EN 12373-1
Materiales
Sloped profile made by extrusion of aluminium. These profiles have been anodized, improving mainly by this process their corrosion and mechanical resistance and their appearance.The aluminium is a material with excellent chemical, physical and mechanical properties. It is lightweight, tough, ductile, malleable and highly durable.
Installation
This ramp profile is intended to be installed once you have finished the tiling of the flooring:
Clean the profile and the surface to install it before proceeding.
Put small amounts of thin-set mortar or adhesive, the size of a nut, along the profile in the areas that will be in contact with the tile.
Align the profile with the tile and press carefully maintaining them in contact. You should take into account the correct way of installation (see drawing below).
Finally, clean the leftover material and let dry.
Can be installed in three different ways, adapting to three different heights. Ensure the inner wing makes contact with the floor, just as it is represented in the drawing above.To install you can use thin-set mortar, silicones or assembly adhesives.
Cleaning and maintenance
The product must be cleaned periodically with a soft mop. If you use a neutral liquid cleaner, you must rinse the profile with cold water and dry it to remove the humidity excess. The persistent dirtiness can be removed by using cleaning approved agents slightly abrasive or a grid covered with polished powder neutral. If a preserving agent is applied, as well as keep a very thin layer of water repellent, note that it can't be yellow,attract dust or dirt or have iridescent effects.
Steel wool, abrasive cleaners, souring products as well as strong acids (hydrochloric and perchloric),strong bases (caustic soda or ammonia) or carbonated solutions are not recommended. Citric acid is neither recommended because disolves the protective layer of the surface of aluminium. Waxes, petrolatum, lanolin or similar substances are not appropriate. Solvents containing haloalkanes (hydrofluoroether and chlorinated solvents) and curing accelerators containing chlorides should not be used (use special accelerators free of chlorides).