Transition ramp profile made of stainless steel designed to avoid the unevenness produced between pavements at different heights. This profile protects and decorates providing resistance and lightness. Easy to install, it is made of stainless steel in brushed finish, providing a perfect and aesthetic finish.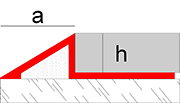 General Features
Profile designed to be installed in pavements, in order to avoid discontinuities in a safe way. This profile has a wide non-slip face and is designed for pedestrian and vehicular traffic. Some of its applications are:
Discontinuities of interior or exterior pavements.
Garage entrances.
Entrances to establishments.
Public places.
Novonivel Inoxidable helps to comply with the DB-SUA of the CTE, helping to bridge pavement discontinuities of less than 50 mm. with a slope of less than 25%.
Technical Features and tests
Alloy: AISI 304 - AIMME
Corrosion resistance: Salt spray test +504 hours without variation (inox) - UNE 112017:92 - AIMME
Materials
Profile manufactured in stainless steel AISI-304. All batches of material used are subjected to a composition test to determine that they comply with the alloy specification. The stainless steel of the products has also been tested for resistance to corrosion, exceeding 500 hours of exposure without showing signs of corrosion.
Stainless steel is a highly resistant and durable material with an excellent surface appearance that does not degrade over time. Brushed finish is available. All finishes are smooth and low porous, facilitating hygienic installation.
Placement
Spread a big amount of gripping material on the surface where you will install the profile.
Then, place the profile and press it to let gripping material pass through the mechanized holes of the fixing wing.
Place a tile on the fixing wing and press it to achieve an optimal contact with the gripping material.
Repeat the process, placing tiles along the fixing wing of the profile.
Finally, clean the remaining material and let dry.
Cleaning and maintenance
It is essential to clean the material immediately after installation to prevent mortar, cement or iron particles from scouring pads or tools from causing corrosion pitting.
For interior applications, you can use water with dishwashing liquid, detergent or liquid soap to remove dirt and possible fingerprints. On high gloss finishes you can use a glass cleaner. There are specific stainless steel cleaners on the market that clean stainless steel and reduce the appearance of possible stains. Whenever cleaning stainless steel, be sure to rinse it thoroughly and dry it completely to prevent tarnishing.
Steel wool or similar products are not recommended as they can scratch the surface and create corrosion pitting. Take special care in the use of materials containing chlorides, as they are contraindicated as they cause oxidation. Hydrochloric acid or iron products in prolonged contact are also not recommended. Never use common steel cleaners for stainless steel.