Structural expansion joint made of anodized aluminum that supports movements with 6 degrees of freedom. It is designed for joint widths of 30 mm. For installation after the completion of floor and wall tiles, it is supplied pre-assembled and easily installed. Available in matt silver.
Version: Normal - Centered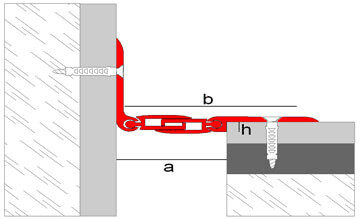 Version: Perimeter
Measurements

Height (h): 3.8mm

Joint width (a): 30 mm

Visible width (b): 82 mm

Horizontal movement: 9.4 mm (+/- 4.7)

Vertical movement: 5 mm (+/- 2.5)
Technical characteristics

Material: Anodized Aluminum

Length: 2.50 ml

Alloy: 6063 (L-3441 / 38-337)

Fire resistance: M0 (UNE 23-727-90)

Abrasion resistance: Very good

Light fastness: Excellent

Appearance and color: EN 12373-1
Applications
Buildings and construction elements are subject to deformations and geometric variations. The arrangement of expansion joints contributes to reducing the effects that these variations have on the building as a whole, preventing the appearance of pathologies.
The CTE (Technical Building Code) in its DB-SAE (Building Actions), establishes that in concrete or steel buildings, expansion joints will be arranged so that there are no continuous elements of more than 40 m. of length.
Novojunta Pro AL30 is a solution for structural joints specially designed for laying after the laying of the floor. It consists of a set of aluminum pieces joined by ball joints that allow movement on all three axes. This profile absorbs the stresses and deformations produced in the construction elements, preventing the appearance of cracks or other pathologies. Ideal for placement on floors.
Due to its design, Novojunta Pro AL30 is quite integrated with the pavement, covering joints of up to 30 mm. Made entirely of anodized aluminum.

Materials

Novojunta Pro AL30 is a profile made using aluminum extrusion. The profiles have been anodized, mainly improving through this process their resistance to corrosion, mechanical resistance and appearance. The anodizing carried out has the Qualanod quality seal, which guarantees the quality of the process and the resulting profiles. This seal regulates appearance and color tests, thickness measurements, sealing and impregnation control, resistance to abrasion, light fastness, acetic salt chamber and nitric acid immersion.
Aluminum is a material with excellent chemical and physical-mechanical properties. It is light, tough, ductile, malleable and highly durable. Its resistance to corrosion and fire is very good.
Load support
Novojunta Pro AL30 supports light / medium loads, including pedestrian and vehicular traffic. Supports vehicle traffic with pneumatic wheels up to 30 kN (DIN 1072).
Installation
Novojunta Pro AL30, like all Emac® structural joints, is supplied pre-assembled and its installation
It is very simple. It is designed for joint widths of 30 mm.
To install the gasket:
Thoroughly clean the surfaces where you are going to place the Novojunta Pro AL30.

Place the Novojunta Pro AL30, as received, on the joint gap.

Remove the protective film and slide the side pieces, which will support the profile, until they stop with the edge of the joint.

Make sure the parts make good contact, that the width of the joint is recommended and that the holes are correctly aligned.

Insert the fasteners and anchor them according to the manufacturer's recommendations. The use of a Fischer SX 4x20 plug or similar with DIN 7982 screw No. 4 is recommended.
The recommended anchors are dimensioned according to the stresses that the joint will have to support during its useful life. If you choose to use an alternative anchor, you should take it into consideration.
The necessary joint width for optimum performance is 30 mm. If you install this profile in slightly larger or smaller widths, you should bear in mind that its movement capacity will vary depending on the width of the joint where it is installed.
Cleaning and maintenance
Cleaning should be done periodically with a soft mop and a neutral cleaning liquid, rinsing well with cold water and drying well to remove excess moisture. Stubborn soiling can be removed with suitable mildly abrasive cleaning agents.
The use of steel wool, abrasive or pickling products as well as strong acids (hydrochloric and perchloric), strong bases (caustic soda or ammonia) or carbonated solutions is not recommended. Citric acid should also not be used as it dissolves the protective oxide layer on the aluminum surface. Waxes, petroleum jelly, lanolin or the like are not suitable. Haloalkane solvents (hydrofluoroethers or chlorinated solvents) and setting accelerators containing chlorides should be avoided (use non-chloride accelerators).