Aluminum profiles intended for the protection or decoration of edges of any type of coating. It is perfect for rehabilitation or reform work since it does not require doing work for its installation. It is also ideal for the protection of deteriorated or poorly finished edges of old installations.

Corner profile to protect edges made of extruded aluminum. It is easily installed on finished tiled or plastered walls, making it a perfect solution for renovation and reform. The placement of Novoesquadra prolongs the durability of the installation, protecting it from shocks.

Available in natural, lacquered or anodized color.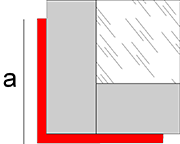 General characteristics

a: 20, 25 mm

Length: 2.50 m
Applications

Novoesquadra Aluminio is a profile designed to protect the edges of ceramic-coated or plastered walls.

Technical characteristics and tests

Alloy: 6063 (L-3441 / 38-337)

Fire resistance: M0 (UNE 23-727-90)

Abrasion resistance: Very good

Light fastness: Excellent

Appearance and color: EN 12373-1
Materials

Novoesquadra Aluminum is a profile made by extrusion of aluminum. The matte silver finish is anodized, improving through this process its resistance to corrosion, mechanical resistance and appearance. Anodizing has the Qualanod quality seal, which guarantees the quality of the process and the resulting profiles. This seal regulates appearance and color tests, thickness measurements, sealing and impregnation control, resistance to abrasion, light fastness, acetic salt chamber and nitric acid immersion.

Lacquered finishes have a homogeneous, high-quality surface. The lacquer has the Qualicoat quality seal, which guarantees the quality of the process and of the final products.

The natural finish does not have any surface treatment, so it has less resistance to corrosion and scratches. Installation is not recommended without the application of additional protection.

Aluminum is a material with excellent chemical and physical-mechanical properties. It is light, tough, ductile, malleable and highly durable.

Placement

Initially clean the profile and the surface where it will be placed, to facilitate a correct adhesion without imperfections.

Then apply adhesive to the inside faces of the profile to facilitate bonding. You can use a polyurethane or similar mounting adhesive or putty.

Align the profile against the surface and hold it down until a proper bond has been produced.

Remove excess material, if necessary, and allow to dry.
Cleaning and maintenance

Cleaning should be done periodically with a soft cloth. If you choose to use a neutral cleaning liquid, it must be rinsed with cold water and dried to remove excess moisture. Stubborn soiling can be removed with mildly abrasive, suitable cleaning agents or a screen coated with neutral polishing powder. If you apply a preservative, in addition to leaving a thin layer of water repellent, keep in mind that it should not be yellow, attract dust or dirt, or have iridescent effects.

The use of steel wool, abrasive or pickling products as well as strong acids (hydrochloric and perchloric), strong bases (caustic soda or ammonia) or carbonated solutions is contraindicated. Citric acid should also not be used as it dissolves the protective oxide layer on the aluminum surface. Waxes, petroleum jelly, lanolin or the like are not suitable. Haloalkane solvents (hydrofluoroethers or chlorinated solvents) and setting accelerators containing chlorides should be avoided (use non-chloride accelerators).