Composite profiles for the protection or decoration of the edges of any type of cladding. It is perfect for refurbishment or renovation work as it does not require any building work for its installation. It is also ideal for the protection of deteriorated or poorly finished edges of old installations.
Corner profile to protect edges made of extruded aluminium. It is easy to install on finished tiled or plastered walls, making it a perfect solution for refurbishment and renovation. The installation of Novoescuadra prolongs the durability of the installation, protecting it from knocks.
Available in various colours.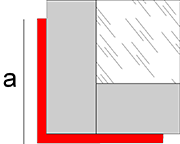 General Characteristics
Applications
Novoescuadra MAXI is a profile designed for edge protection of ceramic or plastered walls.
Materials
Novoescuadra MAXI is a composite profile. It is a profile with a square section, designed to be used as edge protection or embellishment on walls.
This profile is manufactured in MAXI, a material belonging to the WPC (Wood Plastic Composites) family, which incorporates vegetable fibres in its composition and thus contributes to the conservation of the environment.
MAXI is a very resistant material that has been subjected to multiple tests to certify its excellent properties. The installation of MAXI outdoors involves a natural variation in its original colour, being significantly higher in the range of earth colours. To avoid these possible colour variations due to continuous exposure to the sun, we recommend installing the MAXI range indoors.
MAXI has a characteristic texture and a wide range of available colours that blend in perfectly with the environments where it is installed.
Laying
Initially clean the profile and the surface where it is to be installed, to facilitate correct adhesion without imperfections.
Next, apply adhesive to the inside faces of the profile to facilitate the bonding. You can use a mounting adhesive or polyurethane putty or similar.
Align the profile against the surface and hold it pressed down until a proper bond has been produced.
Remove excess material, if necessary, and allow to dry.
Cleaning and maintenance
Cleaning should be carried out regularly with a soft cloth. If a neutral cleaning liquid is used, rinse with cold water and dry to remove excess moisture.