Cove shaped movement profile for corner joints within wall/floor transitions that meets the particular maintenance and hygienic requirements of, e.g. bathrooms, commercial kitchens, and food-processing plants. The profile's dimensions allow for wall and floor tiles of different thicknesses.
DILEX-HK as floor/wall connection may be combined with DILEX-HKW as cove profile for inside wall corners. DILEX-HK absorbs horizontal and vertical movements between the wall and floor. Furthermore, it effectively prevents sound bridges in this area, thereby reducing sound transmission.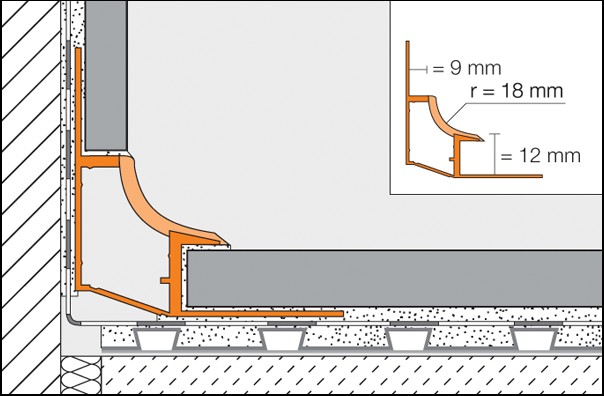 Material
DILEX-HK consists of trapezoid perforated anchoring legs made of recycled rigid PVC and a soft CPE cove shaped movement zone.
Material Properties and Areas of Application:
The profile is resistant to most chemicals encountered in tiled environments, as well as to fungi and bacteria.
In special cases, the suitability of a proposed type of material must be verified based on the anticipated chemical, mechanical, and/ or other stresses. DILEX-HK is a cove shaped movement profile for floor/wall transitions within tiled surfaces.
Installation
Adhere the trapezoid perforated anchoring legs of DILEX-HK at the wall and floor and firmly press them into the adhesive bed.
When setting tiles, trowel tile adhesive onto the substrate and over the perforated anchoring legs to ensure full coverage.
A joint of approx. 2 mm - 3 mm should be left between the wall tile and the profile. Fill the joint completely with grout.
Insert floor tile into the channel beneath the edge of the cove, and completely fill the remaining joints with grout or adhesive. If necessary, fill the channel of the profile with adhesive prior to setting tiles.
Note: Inserting a floor tile into the channel of the profile results in a small edge at the transition point of the cove. To avoid this, fill the channel with mortar prior to setting the tiles, so that the tiles may be set flush to the filled channel.
Maintenance
DILEX-HK is resistant to fungi and bacteria, and requires no special maintenance. Clean the profile along with the tiled surface using common household cleaning agents.