Profile for the separation of flooring or cladding made of aluminum or brass. Its geometry is ideal for installation after work. The exposed face slightly overlaps the edges of the ceramic pieces between which it is installed, keeping them protected. The striated lateral face facilitates its fixation. Available in matt silver anodized aluminum, natural aluminum and brass.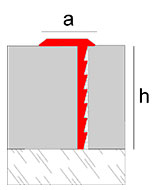 General characteristics

Material and finish:

Dimensions:
h: 23 mm

a: 12.5 mm

Length:

2.5 ml

Materials

Novosepara 6 Aluminum is a profile manufactured using aluminum extrusion. The matt silver finish is anodized, improving through this process its corrosion resistance, mechanical resistance and appearance. Anodizing has the Qualanod quality seal, which guarantees the quality of the process and the resulting profiles. This seal regulates appearance and color tests, thickness measurements, sealing and impregnation control, abrasion resistance, light fastness, acetic saline chamber and nitric acid immersion. Aluminum is a material with excellent chemical and physicomechanical properties. It is light, tough, ductile, malleable and highly durable.

Placement


Spread abundant gripping material in the area where you are going to place the floor.

Place the tiles and tiling the floor to the place where you will install the Novose for 6.

Apply adhesive on the striated side of the Novosepara 6 profile.

Insert the Novosepara 6 profile vertically and fix it to one of the tiles.

Place the other tile, leaving the Novosepara 6 profile adjusted between them. Continue tiling.

Finally, clean the excess material and let dry.
* Metals may be affected by the continued action of some gripping or grouting materials. Immediate cleaning of the material is essential after finishing the installation to avoid damage to the profile.

Cleaning and maintenance

Cleaning should be done periodically with a soft cloth or mop. If you choose to use a neutral cleaning liquid, rinse with cold water and dry to remove excess moisture. Persistent dirt can be removed with mildly abrasive suitable cleaning agents. The use of steel wool, abrasive products or strippers as well as strong acids (hydrochloric and perchloric), strong bases (caustic soda or ammonia) or carbonated solutions is contraindicated. Citric acid should also not be used, as it dissolves the protective oxide layer from the surface of the aluminum. Waxes, petrolatum, lanolin or the like are not suitable. Avoid solvents with haloalkanes (hydrofluoroethers or chlorinated solvents) and setting accelerators containing chlorides (use accelerators without chlorides).