Solution for expansion joint which consists of a central body made of flexible EPDM and two metal sides. One of the sides acts like a cover plate, hiding the rubber inside. This expansion joint has two different functions: is functional, as it absorbs expansions and contractions, and decorative.
The flexible EPDM rubber, 20 mm width, has a high capacity of movement absorption. Its size and functionality allows it to be installed as a structural joint.
Available in anodized aluminum mat silver.
General recommendations
For outdoor installations, it is recommended to close areas up to 172 sqare meters (16 m2) maximum, with a distance between joints not over 16,4ft (5 m.)
For indoor installations, with less thermal variations, it is recommended to close areas up to 430 square meters (40 m2) maximum, with a distance between joints not over 26ft (8 m.)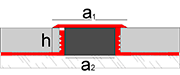 Material:
General features:
h: 12 mm
a1: 28 mm
a2: 20 mm
Long.: 2,5 ml
Movement: +2 / -10 mm
Technical Features and Tests
Fire resistance: M4 UNE 23-727-90
Abrasion resistance: Very good
Working temperature: -40ºC/+80ºC
Water absorption: < 5 ASTM D1056 - 00 AIMPLAS
Ozone resistant: Yes
Free of CFC
Materials
Novojunta Decor XL is a profile made by extrusion of aluminum. It has been anodized, improving mainly by this proccess its corrosion and mechanical resistance and its appearance. The anodized applied, has the quality seal "Qualanod" which guarantees the quality of the process and the resulting profiles. This seal regulates several tests: appearance and color, thickness measurements, sealing and impregnation control, abrasion resistance, lightfastness, acetic saline chamber and nitric acid immersion.
Aluminum is a material with excellent chemical, physical and mechanical properties. It is lightweight, tough, ductile, malleable and highly durable.
The central body of Novojunta Decor XL is made of high quality EPDM rubber. EPDM is an elastomer polymer with excellent mechanical properties. It has good resistance to abrasion, wear and impact, is a good insulator, and resists weathering, common chemicals and has a wide working temperature range.
Its excellent compression set is the main feature in absorbing the deformations and geometric variations of constructive elements.
Installation
Spread a big amount of thin-set mortar on the surface to be tiled.
Then, place the profile and press it so the thin-set mortar could pass through the holes of the anchoring wing.
Place one tile over the anchoring wing and press it to get an optimal joint between the thin-set mortar and the profile.
Repeat the last step placing tiles along the profile (both sides) until the installation is finished. Before it cures, hit softly with a rubber hammer to align the profile with the tiles.
Finally, clean the leftover material, remove the protective film and let dry.

Cleaning and maintenance
The cleaning must be done periodically with a soft cloth. If you use a neutral liquid cleaner, you must rinse the profile with cold water and dry to remove excess moisture. If dirtiness persists, clean the profile with a solution with clean water and detergent or neutral soap 5%, brushing with a cloth that has no particles that could scracht the finish. Ensure the lacquered surface is totally cold (maximum 20ºC) before the cleaning.
Steel wool, abrasive cleaners, souring products as well as strong acids (hydrochloric and perchloric),strong bases (caustic soda or ammonia) or carbonated solutions are not recommended. Citric acid is neither recommended because disolves the protective layer of the surface of aluminium. Waxes, petrolatum, lanolin or similar substances are not appropriate. Solvents containing haloalkanes (hydrofluoroether and chlorinated solvents) and curing accelerators containing chlorides should not be used (use special accelerators free of chlorides)