Decorative plate made of stainless steel, suitable for its placement in ramps and as stair nosing. Its non-slip surface improves the value of slip resistance of the pavement which complements. This helps to fulfill with the Spanish Technical Building Code (CTE).
This profile can be installed without work so it's ideal for rehabilitation or reform works. It is also ideal for public areas such as airports, malls, hospitals, etc. and for homes.
Novopletina is available in Brico pack, including adhesive and ready to install.
Available in stainless steel brushed. Covered with protective film.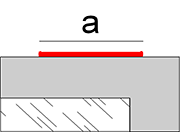 Dimensions
a: 25mm.
Length: 1 or 2 ml
Applications
Novopletina is a profile designed for placement on both steps and ramps. Its particular exposed face provides high slip resistance, helping to comply with the DB-SUA of the CTE as it improves the slip resistance value of the pavement where it is installed and can be placed at the beginning and end of unevenness in public areas as a marker. in order to avoid falls.
The Technical Guide to Accessibility in Building 2001, also recommends the placement of visual and tactile elements at the beginning of ramps or stairs to promote accessibility for people with reduced visibility.
Novopletina is ideal for public spaces such as airports, hotels, hospitals, etc., although it is also ideal for installation in homes. Its ease of placement, which does not involve work, makes it especially suitable for rehabilitation or reform works.
Technical characteristics and tests
Alloy: AISI-304 / Composition test of each batch / AIMME
Corrosion resistance: Salt spray test / 504 hours without variation (stainless steel) / 650 hours without variation (titanium coated stainless steel) / UNE 112017: 92 / AIMME
Slip resistance: Excellent / UNE-ENV 12633: 2003 / AIDICO
Materials
Stainless steel
Novopletina is a profile made of AISI-304 stainless steel. All batches of material used are subjected to a chemical composition test to determine that they meet the alloy specification. The stainless steel of Emac products has also been tested for corrosion resistance, exceeding 500 hours of exposure without showing signs of corrosion.
Stainless steel is a highly resistant and durable material with an excellent surface appearance that does not degrade over time. The finishes available are high gloss, brushed or the future range whose coating contains titanium. All finishes are smooth and slightly porous, thus facilitating the hygiene of the installation.
Placement
If you have purchased the Novopletina without adhesive: Clean the surfaces to be joined to guarantee perfect adhesion. Spread abundant adhesive material such as Fischer Express Adhesive Sealant / Adhesive or similar on the unseen face of the Novopletin, place the profile on the desired surface and press carefully. Finally, let the adhesive dry and remove the protective film.
If you have purchased the Novopletin with adhesive tape or the Bricopletin with adhesive: Clean the surface where you are going to place the profile to guarantee perfect adhesion. Remove the film from the adhesive tape, place the profile on the desired surface and press carefully. Finally remove the protective film.
If you are going to paint or do the Novopletina installation later, keep the protective film until the operation is finished.
Cleaning and maintenance
Cleaning the material immediately after installation is essential to prevent the remains of mortar, cement or iron particles from scouring pads or tools from causing corrosion pitting.
For interior applications, you can use dishwashing liquid, detergent, or liquid soap to remove dirt and possible fingerprints that have been marked. In high gloss finishes you can use a glass cleaner. There are specific stainless steel cleaners on the market that clean it and reduce the appearance of possible stains. Whenever you clean the stainless steel, be sure to rinse it well and dry it completely to avoid tarnishing.
Steel wool or similar products are not recommended, as they can scratch the surface and create corrosion pitting. Take special care in the use of materials containing chlorides, as they are contraindicated since they cause oxidation. Hydrochloric acid or iron products in prolonged contact are also not recommended. Never use ordinary steel cleaners for stainless steel.
In more aggressive environments, it is recommended to periodically clean the profile with fresh water and then dry it.