High-quality finishing profile for creating external edges of tile coverings or rendered surfaces. Schlüter-FINEC protects the edge of the covering – including glass mosaics – from mechanical damage with a slim, elegant corner formation.
Schlüter-FINEC is a high-quality finishing profile made of stainless steel or anodised aluminium. Schlüter-FINEC-E made of stainless steel is also suitable for use in staircases as a slim edge protection for tiles and rendered surface coatings.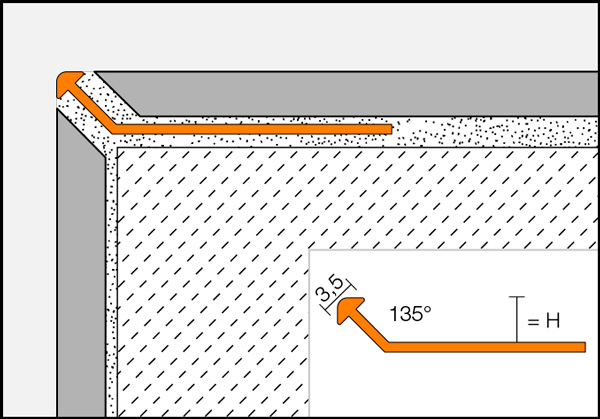 Material
The profile is available in the following finishes:
E = stainless steel, V2A, material no. 1.4301 = AISI 304
Material properties and areas of application:
Schlüter-FINEC is available in a wide variety of materials and finishes. In applications exposed to chemical or mechanical stresses, the profile's suitability must be verified. The information provided below is intended as a general guideline.
Schlüter-FINEC-E is made of roll formed V2A stainless steel (material no. 1.4301). It is particularly well suited for applications that, in addition to heavy mechanical stresses, require resistance to chemicals such as acidic or alkaline media and detergents.
Stainless steel is not resistant to all chemical stresses. Substances such as hydrochloric or hydrofluoric acid or certain chloride and brine concentrations may cause damage. In certain cases, this also applies to seawater pools. Special anticipated stresses should therefore be verified in advance.
Installation
Select Schlüter-FINEC in accordance with the tile thickness (the aluminium profile with a height of H = 2.5 mm was specifically developed for edging tile to plaster/rendered finishes).
Press the trapezoid perforated anchoring leg of the profile firmly into the adhesive and align it (in the case of adjoining plaster or render place the anchoring leg on a suitable adhesive area first).
Trowel additional adhesive over the trapezoid perforated anchoring leg to ensure full coverage.
Corner formation with FINEC-AE/-TS/-AC/-E
The adjoining tiles in the area of the profile must be chamfered by 45°. When creating 3 way external corners, always start by embedding the pre-fabricated parts of the corner set in the tile adhesive. The following work sequence must be observed:
1) left corner piece (1 trapezoid perforation),
2) right corner piece (2 trapezoid perforations),
3) lower corner piece (3 trapezoid perforations),
4) cut profiles to size and set them in place.
Corner formation with FINEC-SQ
4. The adjoining tiles in the area of the profile must be chamfered by 45°. Use the matching corner pieces from the Schlüter-QUADEC profile series in a height of 4.5 mm to create 3 way external corners.
Firmly press the tiles into the adhesive and align them in such a way that the upper profile edge is flush with the tile. The tiles must be fully embedded in the area of the profile. Leave a joint of approximately 1.5 mm.
Completely fill the space between the tile and the profile with grout.
Use suitable materials and tools for the sensitive surfaces to avoid scratches or other damage. Residue of adhesive, plaster or render should be removed immediately, especially from aluminium finishes
Notes
Schlüter-FINEC requires no special maintenance or care. Do not use abrasive cleaning agents on the sensitive surfaces.
Damaged anodised surfaces can be restored with paint.
The surfaces of stainless steel profiles can be polished with commercial chrome-polishing products. Stainless steel surfaces exposed to the environment or aggressive substances should be cleaned periodically using a mild household cleaner. Regular cleaning maintains the neat appearance of stainless steel and reduces the risk of corrosion. All cleaning agents must be free of hydrochloric and hydrofluoric acid.
Avoid contact with other metals, such as regular steel, to prevent corrosion. This also includes installation tools such as trowels or steel wool, e.g. for the removal of mortar residue. We recommend the use of the stainless steel cleaning polish Schlüter-CLEAN-CP