Stair nosing made of Maxi, an exclusive raw material of WPC (Wood Plastic Composite) family of products. Its particular geometry and appearance contribute to embellish all kind of stairs, specially the rustic ones, being the perfect alternative to natural wood profiles.
Stair edging profiles to finish off steps made of Maxi, exclusive which belongs to the WPC range of products (Wood Plastic Composites). Maxi incorporates vegetable fibers inside its composition and contributes, in this way, to preserve the Environment.
Maxi is a very resistant material that has been tested under multiple tests to certify its excellent properties.
The installation of this tread edge profiles, results in a natural variation on its original color, being slightly higher in the range of redish colors. To avoid these possible color variations due to continuous sun exposure, we recommend installing Maxi indoors. For outdoor installations, we recommend the MaxiKenya range, which has an excellent weatherability and remains unalterable to sun exposure.
Maxi has a particular texture and a wide range of available colors that fit perfectly in the environments where they are installed.
Dimensions
h: 10/12/15 mm (3/8", 1/2",9/16")
a: 45 mm (1-3/4")
Lenght: 2,50 m
Finishes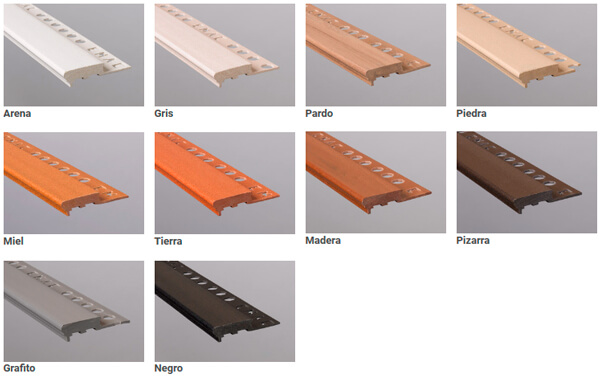 Technical Features and Tests
Resistance to chemical agents: Very good except acetone, chromic acid and sulfu-ric acid.
Water absorption: Very small absorption, high dimensional stability. Retains its weight after dry.
Fire reaction: M1 Classification / UNE 23.727-90 1R
Abrasion resistance: Up to 2200 cycles without variation
Surface resistance to staining: Resistance to acetone, coffee 176ºF/80ºC, bitumen, hydrogen peroxyde 30%, sodium hydroxide 25%.Acetone: surface degradation and blisters.Rest: without changing. / UNE EN 438-2:2005Aptdo. 23
Impact resistance: Spring: 34 NBall drop: 3,93ft/120 cm. maximum drop /0,38 in./9,9 mm mark diameter / UNE EN 438-2:2005Aptdo. 23
Cigarette burns: Surface degradation
Resistance to humidity-drying: > 20 cycles / UNE EN 14428
Placement
Spread a big amount of thin-set mortar on the surface of the riser.
Place the tile on the riser and press to get an optimal adherence.
Then, spread a big amount of thin-set mortar on the tread and align the profile on its vertex so it rests on the riser (Do not let overhang, the leverage may remove the step and the tiles). Then press so the thin-set mortar could pass through the mechanized holes of the anchoring wing.
In installations with butt joint or connections it is recommendable to keep a small separation by way of expansion joint which should be greater the longer the profiles to join are. Approximately 2 mm/m. This joint can be sealed with elastic filling suitable for outdoors.
Place one tile on the tread, align it to the profile and press to get a perfect adhesion. You can tap it softly with a rubber hammer.
Clean the possible leftover material and let dry.
Warnings
Part of the composition of Maxi and MaxiKenya is natural, so it may have differences in tone that can not be considered as manufacturing defects.
It is recommended to take the profiles by its central part, avoiding taking them by the tops to avoid bending stresses which could cause scratches or breaks.
Do not bend excessively the material. Store it always horizontally and in dry places.
It must not be sanded, because that could affect to its surface appearance.
It resists in moisture conditions but it is not recommended its use in submerged places.
Cleaning and maintenance
You can clean Maxi with a cloth dampened just with water or with water in a solution with a neutral detergent 5%. The correct use of bleach doesn't affect the material.
It is not recommended to use chromic or sulphuric acids or polar solvents as toluene or acetone for its cleaning.