Ramp Transition Profile For Tile to avoid the difference of level created when laying floorings at a different height as when a new flooring is layed onto an old one. It is specially designed to be placed after having placed the flooring. It will be fixed with a silicone-type adhesive.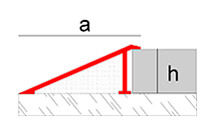 Dimensions
a = 19 mm.
h = 10 mm.
Long = 2,50 m
Applications
Ramp profile designed for placement on pavements, in order to avoid discontinuities between pavements safely.
Technical characteristics and tests
Alloy 6063 (AA and ASTM) / L-3441 (UNE 38-301-89)
Fire resistance: M0 (UNE 23-727-90)
Abrasion resistance: Very good
Light fastness: Excellent
Appearance and color: EN 12373-1
Materials
Transition profile made by extrusion of aluminum. This profile has been anodized improving, through this process, mainly its resistance to corrosion, mechanical resistance and appearance. The anodizing carried out has the Qualanod quality seal, which guarantees the quality of the process and the resulting profiles. This seal regulates tests of appearance and color, measurements of thickness, control of sealing and impregnation, resistance to abrasion, light fastness, acetic salt chamber and immersion in nitric acid. Aluminum is a material with excellent chemical and physico-mechanical properties. It is light, tough, ductile, malleable and highly durable.
Installation
This profile is oriented to its placement once the floor tiles have been executed.
Before you start, clean the profile and the surface where you are going to install it.
Put small amounts of mortar or adhesive, the size of a walnut, along the profile in the areas that will be in contact with the tile.
Align the profile with the tile and carefully press to keep them together. Take into account the correct placement of the profile.
Finally clean the excess material and let dry. Installation.
For the installation of Novonivel 2 you can use adhesive cement, silicones or mounting adhesives.
Cleaning and maintenance
Cleaning should be done periodically with a soft cloth. If you choose to use a neutral cleaning liquid, it must be rinsed with cold water and dried to remove excess moisture. Stubborn soiling can be removed with mildly abrasive, suitable cleaning agents or a screen coated with neutral polishing powder. If you apply a preservative, in addition to leaving a thin layer of water repellent, keep in mind that it should not be yellow, attract dust or dirt, or have iridescent effects.
The use of steel wool, abrasive or pickling products as well as strong acids (hydrochloric and perchloric), strong bases (caustic soda or ammonia) or carbonated solutions is not recommended. Citric acid should also not be used as it dissolves the protective oxide layer on the aluminum surface. Waxes, petroleum jelly, lanolin or the like are not suitable. Haloalkane solvents (hydrofluoroethers or chlorinated solvents) and setting accelerators containing chlorides should be avoided (use non-chloride accelerators).