Profile with arrow shape and double wing, which facilitates the alignment of the tiles during installation. Once installed, the visible face keeps the edges of the tiles hidden, protects them from possible damage. Made of aluminum and available in two heights.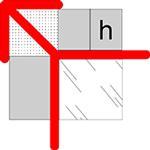 Application

In profile Novocanto Flecha is intended for the protection and decoration of corners in ceramic wall installations. In addition to this function, it can be installed as a half height finish.

materials

Profile made by extrusion of aluminum. Anodized finishes improve the corrosion resistance, mechanical resistance and appearance through the process. Anodizing has the Qualanod quality seal, which guarantees the quality of the process and the resulting profiles. This seal regulates appearance and color tests, thickness measurements, control of sealing and impregnation, resistance to abrasion, light fastness, acetic saline chamber and immersion in nitric acid. Aluminum is a material with excellent chemical and physical-mechanical properties. It is light, tough, ductile, malleable and highly durable.

Placement

Plate one of the walls at the angle of which you will place the Novocanto Arrow. Next, spread plenty of gripping material on the wall that remains to be planted and where you will place the profile.

Place the Novocanto Arrow over the angle and press so that the gripping material passes through the machined holes in the attachment wing.

Lay tiles along the fixing wing by pressing for optimum adhesion.

Continue tiling until installation is complete.

Clean off any remaining material and allow to dry.
Cleaning and maintenance

Cleaning should be done periodically with a soft cloth. If you choose to use a neutral cleaning liquid, it must be rinsed with cold water and dried to remove excess moisture. If the dirt is persistent, clean the profile with a 5% solution of detergent or neutral soap in clear water, rubbing with a cloth that does not contain particles that can scratch the finish. Make sure that the lacquered surface is completely cold (maximum 20ºC) before cleaning.

The use of steel wool, abrasive or pickling products as well as strong acids (hydrochloric and perchloric), strong bases (caustic soda or ammonia) or carbonated solutions is not recommended. Citric acid should also not be used as it dissolves the protective oxide layer on the aluminum surface. Waxes, petroleum jelly, lanolin or the like are not suitable. Haloalkane solvents (hydrofluoroethers or chlorinated solvents) and setting accelerators containing chlorides should be avoided (use non-chloride accelerators).