Stainless steel corner profile for tiled walls, offering excellent protection for edges subject to heavy stresses, e.g., in industrial kitchens, slaughterhouses, sanitary facilities, and hospitals. The surface of the profile forms a symmetrically rounded outside corner for the tiled surface. The profile provides excellent edge protection in case of mechanical stresses, as well as a clean and decorative finish for the wall corner.
Schlüter ECK-E is especially suitable for areas where strict hygienic requirements must be met (e.g. hospitals, industrial kitchens, clean rooms, washrooms and food-processing plants) and where aesthetic appeal is desired.
The Schlüter ECK-E installed at external wall corners can be combined with the cove-shaped stainless steel profiles Schlüter DILEX-EHK at internal wall corners and Schlüter DILEX-EHKS for floor/ wall transitions.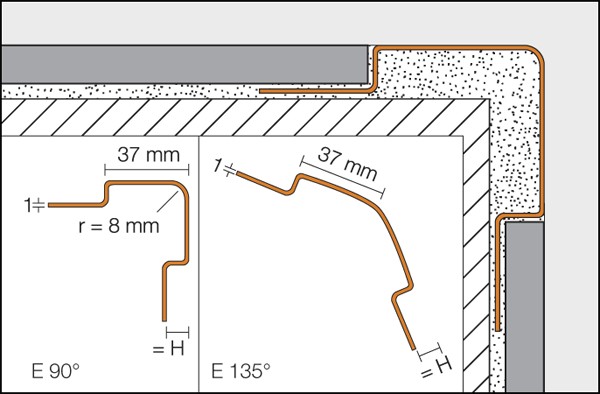 Material
Schlüter ECK-E is made of roll-formed stainless steel 1.4301 (V2A) or material no. 1.4404 (V4A) and features trapezoidperforated anchoring legs. The visible areas of the profile are covered with a protective foil.
Material properties and areas of application
In special cases, the suitability of the profile must be verified based on the anticipated chemical and mechanical stresses.
The information provided below is intended as a general guideline.
Schlüter ECK-E is made of roll-formed stainless steel V2A (material no. 1.4301) or V4A (material no. 1.4404). Schlüter ECK is highly durable and especially suited for application areas that must be resistant to chemicals and acids, such as the food industry, breweries, dairies, industrial kitchens, and hospitals as well as residential spaces.
The use of V4A is recommended if consistent exposure is expected, for example in the case of swimming pools (fresh water). Even stainless steel is not resistant to all chemical stresses, and may be affected by hydrochloric and hydrofluoric acid or certain chloride and brine concentrations.
Special anticipated stresses should therefore be verified in advance.
Depending on the anticipated chemical stresses, customers can choose between the alloy materials 1.4301 or 1.4404.
Installation
Select Schlüter ECK-E according to tile thickness.
Apply appropriate tile adhesive to areas where the perforated anchoring legs will be placed. Make sure the adhesive is suitable for the substrate.
Press the profile securely into the setting material and align.
Trowel additional setting material over the anchoring legs to ensure full coverage and support of the tile edges.
Solidly embed the tiles so that the tiled surface is flush with the top of the profile.
A joint of approximately 2 mm should be left between the tile and the profile. This joint is filled completely during the grouting process of the tile covering.
Remove the protective foil immediately after grouting.
Maintenance
Schlüter ECK-E requires no special maintenance or care. Clean profiles using common household cleaning agents.
Stainless steel surfaces develop a sheen when treated with a chrome-polishing agent. Stainless steel surfaces exposed to the environment or aggressive substances should be cleaned periodically using a mild household cleaner.
Regular cleaning maintains the neat appearance of stainless steel and reduces the corrosion risk. All cleaning agents must be free of hydrochloric acid.
Do not use abrasive cleaning agents on the sensitive surfaces. The stainless steel cleaning polish Schlüter CLEAN-CP may be used if necessary.
Avoid contact with other metals such as steel, since this can cause extraneous rust. This also includes tools such as trowels or steel wool, i.e., tools used to remove mortar residue.