Cove shaped profile or stainless steel corner profile that is subsequently adhered at the internal corners of tiled walls or other wall coverings. The profile covers damaged spots or imperfect internal corners to avoid the need for replacement and remodelling. Pre-formed external and internal corners as well as connectors are available for the profile type Schlüter ECK-KHK.
Schlüter ECK-KHK is particularly suitable for hygienically sensitive areas, where an appealing visual design is as important as ease of cleaning, e.g. in hospitals, industrial kitchens, clean rooms, washrooms, and in food preparation areas etc.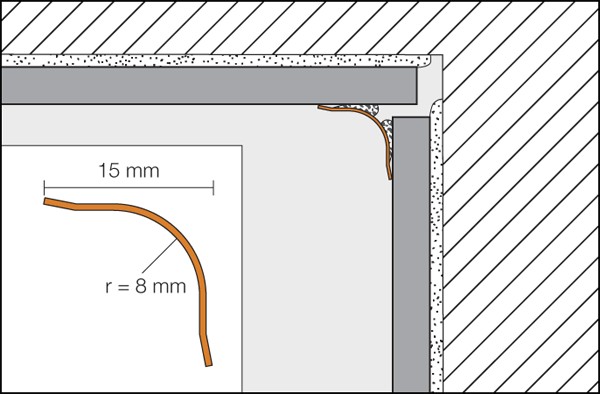 Material
Los perfiles angulares Schlüter ECK-KHK están fabricados en acero inoxidable de la clase 1.4301-V2A (AISI 304). Schlüter ECK-K también está disponible en acero inoxidable de la clase 1.4404-V4A (AISI 316L). Los perfiles son formados mediante el procedimiento de perfilado por rodillos. La superficie del perfil está recubierta con una película protectora.
Propiedades del material y lugares de aplicación:
En determinados casos se debe comprobar la idoneidad de este tipo de perfil según las agresiones químicas o mecánicas esperadas. Los perfiles Schlüter ECK-KHK de acero inoxidable 1.4301-V2A (AISI 304) y el perfil Schlüter ECK-K también disponible en acero inoxidable 1.4404-V4A (AISI 316L) están especialmente indicados para aplicaciones en zonas con altas exigencias mecánicas que además requieren una alta resistencia química contra, p.ej. medios ácidos, alcalinos o productos de limpieza agresivos. El acero inoxidable no resiste a todas las agresiones químicas como, p.ej., el ácido clorhídrico, ácido fluorhídrico y concentraciones de sales. Agresiones especiales se deben comprobar antes de la instalación de los perfiles. Dependiendo de las agresiones químicas esperadas, el perfil Schlüter ECK-K se puede elegir entre las calidades de acero inoxidable 1.4301-V2A (AISI 304) ó 1.4404- V4A (AISI 316L).
Instalación
Los ángulos de acero inoxidable Schlüter ECK-KHK se coloca en las esquinas de paredes acabadascon Schlüter KERDI-FIX o materialessimilares. En primer lugar se aplica eladhesivo en el reverso del perfil y despuésse coloca presionandolo en las esquinashasta que el perfil esté completamentefijado. Antes de aplicar el adhesivo sedeberán limpiar las superficies de contactode cualquier resto de suciedad,grasa, etc.
Los restos de adhesivo que sobresalganpor debajo del perfil se deben limpiar conayuda de un limpiador adecuado.
Finalmente se debe quitar la películaprotectora.
Indicaciones
Perfil curvo de acero inoxidable Schlüter ECK-KHK no precisa ningún mantenimiento especial. Los restos de suciedad deberán eliminarse a la hora de limpiar el recubrimiento, utilizando para ello el limpiador adecuado.
Tratando el acero inoxidable con pulimento de cromo o productos similares se obtiene una superficie brillante. Las superficies de acero inoxidable expuestas a la intemperie o a sustancias agresivas deberían limpiarse periódicamente con productos de limpieza no agresivos. Una limpieza periódica no sólo mantiene limpio el acero inoxidable, sino también reduce el riesgo de corrosión. En ningún caso los productos de limpieza pueden contener ácido clorhídrico o ácido fluorhídrico.
Debe evitarse el contacto con otros metales, como por ejemplo acero normal, ya que puede provocar oxidaciones. También se debe evitar el uso de herramientas para eliminar restos de mortero, como, p.ej., espátulas y lana de acero.
¿Qué es acero inoxidable?
"Acero inoxidable" es el concepto colectivo para un grupo de más de 160 tipos de acero inoxidable con distintas composiciones respectivamente.
Esta descripción está basada en la creación de una capa de óxido de cromo en la superficie del acero inoxidable con un espesor de aprox. una milésima de mm. Es una capa muy fina con capacidad de renovarse en caso de su deterioro, de forma que por regla general no pueda aparecer óxido en este tipo de acero.
La condición para el cumplimento de esta característica es, que no se dañe la capa protectora durante mucho tiempo (p. ej. por contaminación de otros óxidos o productos químicos determinados, como p. ej., ácido clorhídrico). Estos deterioros pueden producirse especialmente en ámbitos con agresiones químicas, como p. ej., en zonas exteriores cerca del mar o en regiones con un alto nivel de contaminación industrial en el aire, así como en la industria alimentaria o en piscinas. En estos casos recomendamos el uso de la calidad de acero inoxidable V4A (nº de material 1.4404 = AISI 316 L), en vez de la calidad convencional V2A (nº de material 1.4301 = AISI 304), que dispone de una mayor resistencia a la oxidación, cumpliendo las exigencias más altas.
La denominación oficial para el material nº 1.4301 según norma DIN EN 10088 es X5CrNi18-10. La denominación para el material nº 1.4404 según norma DIN EN 10088 es X2CrNiMo17-12-2.