Structure expansion joints up to 60 mm wide. Its design facilitates the absorption of movements derived from thermal variations, allowing movement in three axes. With a non-slip grooved face and very heavy load support, it is excellent for high traffic areas. It comes pre-assembled, with spacers to support the installation and protective film.
Buildings and construction elements are subject to deformations and geometric variations. The arrangement of expansion joints contributes to reducing the effects that these variations have on the building as a whole, preventing the appearance of pathologies. The CTE (Technical Building Code) in its DB-SAE (Building Actions), establishes that in concrete or steel buildings, expansion joints will be arranged so that there are no continuous elements of more than 40 m. of length.
Novojunta Pro Metal 60 is a solution for structural joints formed by a set of sliding aluminum parts. Novojunta Pro Metal 60 has a groove on its exposed face that gives it anti-slip properties, ideal for flooring. Its excellent load capacity makes it suitable for very heavy load traffic, meeting the most demanding requirements.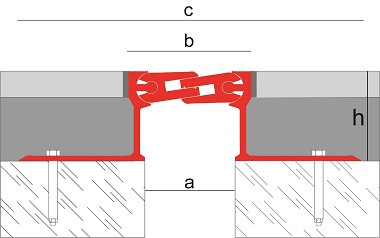 Dimensions
a: 60 mm
b: 78 mm
c: 200 mm
h: 22, 35, 50, 80 mm
Length: 2.50 ml
Horizontal movement: 20 mm (+ 9 / -11 mm)
Vertical movement: 30 mm (+/- 15 mm)
Technical characteristics
Alloy: 6063 - T6
Fire resistance: M0 (UNE 23-727-90)
Elastic limit (EN 755-2): 170 N / mm2
Brinell hardness (EN 755-2): 75 HB
Elongation (EN 755-2): 8% min
Abrasion resistance: Very good
Corrosion resistance: Very good
Materials
Novojunta Pro Metal 60 is a profile made entirely of extruded aluminum. Aluminum is a material with excellent chemical and physical-mechanical properties. It is light, tough, ductile, malleable and highly durable. Its resistance to corrosion and fire is very good.
Aluminum is a highly valued material used in various sectors, especially in construction. Its transformation processes are multiple, so that very different geometries can be obtained with high performance. It is a recyclable material.
Load support
Novojunta Pro Metal 60 supports very heavy loads, including pedestrian and vehicular traffic. Supports traffic of vehicles with pneumatic wheels up to 300 kN and forklifts and pallet trucks with solid wheels up to 9 kg / mm (*)
(*) Data obtained through simulation with the finite element method in collaboration with the AIDIMME Metal-mechanical Technological Institute. Test number 21902015.
Installation
This joint model is supplied pre-assembled, with protective film and metal spacers that keep the joint profile in its optimal installation position.
Clean the surfaces where the Novojunta Pro Metal 60 will be placed.
Place the profile on the joint, without removing the spacers or the film.
Install the end fasteners and then continue with the rest of the fasteners by placing them approximately every 30 cm (6 per linear meter) alternately between both fastening wings. Use the supplied hardware.
Once the joint is correctly positioned and fixed, proceed to remove the spacers to execute the rest of the pavement. You can remove the spacer lock nuts or leave them in place.
Once the work is finished, remove the protective film.
Novojunta Pro Metal 60 is a profile suitable for joints of width equal to or less than 60 mm. Never install this profile on a wider joint.
Cleaning and maintenance
Cleaning should be done periodically with a soft mop and a neutral cleaning liquid, rinsing well with cold water and drying well to remove excess moisture. Stubborn soiling can be removed with suitable mildly abrasive cleaning agents.
The use of steel wool, abrasive or pickling products as well as strong acids (hydrochloric and perchloric), strong bases (caustic soda or ammonia) or carbonated solutions is not recommended. Citric acid should also not be used as it dissolves the protective oxide layer on the aluminum surface. Waxes, petroleum jelly, lanolin or the like are not suitable. Haloalkane solvents (hydrofluoroethers or chlorinated solvents) and setting accelerators containing chlorides should be avoided (use non-chloride accelerators).