Methacrylate profile with a smoothed curve and reduced size, wich makes easier the cleaning of difficult areas and avoids the germen accumulation. The technology applied on its surface, protects it against harmful organisms such as molds, fungi and bacteria. Its installation without need of work, makes it perfect for rehabilitation or reform works.It's ideal for installations where high levels of hygiene and cleaning are required or for homes for private use.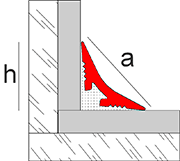 Dimensions
Materials
PMMA
(Methacrylate)
Novoescocia Methacrylate is a profile manufactured by extrusion of PMMA (Methacrylate). Methacrylate is a highly resistant and durable plastic with improved properties compared to other commonly used plastics such as PVC. Its characteristics in common with other plastics include high rigidity, resistance to deformation and impact, low permeability and high operational safety. In addition, it is more resistant to weathering and UV rays than other plastics and can be safely installed outdoors. Its outstanding performance in wet or submerged environments makes it the ideal choice for installations such as swimming pools, spas, etc.
Finishes
01 - White
154 - Light beige matt
153 - Metallic
Applications
Areas of application of Novoescocia Methacrylate:
Corners between wall and kitchen worktop.
Perimeters of shower trays or bathtubs.
Wall-floor, wall-wall or wall-ceiling junctions both horizontally and vertically.
Encounters between wall and floor in swimming pools (submerged).
Encounters in areas with high humidity (spas, thermoludic spaces...).
It is an ideal product for bathrooms, kitchens, doctors' surgeries, restaurants, etc. Its design is versatile and suitable for homes, offices, public buildings or installations with strict hygiene and cleanliness requirements. Profile made of methacrylate. Its coating improves corrosion resistance and provides microbial deterioration control qualities. Methacrylate is a material with excellent chemical and physicomechanical properties. It is light, tough, ductile, malleable and highly durable.
Placement
Clean the surface destinated to the installation of Novoescocia.
Cover generously the back face of Novoescocia Methacrylate with an adhesive silicone type such as "MS Sealing/Express Adhesive" from Fischer.
Fill also the posterior cavity with the same adhesive to ensure a perfect sealing and good grip.
Place the Novoescocia 4 Mini on the corner and press firmly ensuring a good contact between both surfaces.
Finally clean the remaining material and let dry
Finally, wipe off any excess material and allow to dry.
* In humid environments or in direct contact with water, it is recommended to seal the joints between Novoescocias with silicone.
Cleaning and maintenance
Steel wool, abrasive products or paint strippers are not recommended as they may cause surface damage. Clean the material with soap and water and be sure to use a soft cloth that is free of particles that may scratch the material.
Some alcohols (methanol, ethanol and butanol) and organic solvents (solvents, ketones) are harmful to the material and are therefore not recommended.