Aluminium profile for expansion joints on floors, made with aluminum, has arrow shape, so it is specially indicated for high thickness floorings. Consists of two metal profiles with a flexible EPDM rubber inside.
This expansion joint has a decorative plate in the visible side which hides the EPDM rubber. In this way, is a functional profile, absorbs movements and a decorative profile.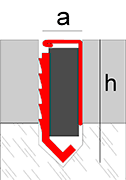 Dimensions:
a: 12.50 mm.

h: 30, 35, 50, 65, 85, 125 mm.

Length: 2.50 m
Applications
Expansion joint profile whose main function is to absorb the expansion and contraction movements of the pavement in order to avoid the appearance of pathologies in the facilities. It can be installed vertically and horizontally on both floor and wall tiles.
Technical characteristics and tests
Materials
Aluminum

Expansion joint made by extrusion of aluminum. The profiles have been anodized, mainly improving through this process their resistance to corrosion, mechanical resistance and appearance. The anodizing carried out has the Qualanod quality seal, which guarantees the quality of the process and the resulting profiles. This seal regulates appearance and color tests, thickness measurements, sealing and impregnation control, resistance to abrasion, light fastness, acetic salt chamber and nitric acid immersion. The natural finish does not have any surface treatment, so It has less resistance to corrosion and scratching. Installation is not recommended without the application of additional protection. Aluminum is a material with excellent chemical and physical-mechanical properties. It is light, tough, ductile, malleable and highly durable. Its resistance to corrosion and fire is very good.

EPDM

The central body of this gasket is made of high quality EPDM. EPDM is an elastomeric polymer with excellent mechanical properties. It has good resistance to abrasion, wear and impact, is a good insulator, resists weathering, the most common chemical products and its wide working temperature range. Its excellent recovery after compression is key in the absorption function of the deformations and geometric variations of the constructive elements.
Placement recommendations

As an expansion joint

Exterior walls: Every 3-4 meters maximum. Regular areas less than 16 m2 -> (Joint width> = 8 mm)

Exterior pavements: Every 2.5 - 5 meters maximum. Regular areas less than 16 m2 -> (Joint width> = 8 mm)

Indoor flooring: Every 8 meters maximum. Respect shrink joints. Regular areas smaller than 40 m2 -> (Joint width> = 5 mm)

Unique points: Door steps or pavement changes -> (Joint width> = 8 mm)
As a perimeter joint

Interior walls: Perimeter joint -> (Joint width> = 8 mm)

Interior walls: Wall - Ceiling / Wall - Wall -> (Joint width> = 8 mm)

Exterior walls: Interior / exterior corners -> (Joint width> = 8 mm)

Interior flooring: Perimeter joint and deliveries with other elements - (Joint width> = 8 mm)

Exterior flooring: Perimeter joint and deliveries with other elements - (Joint width> = 8 mm)

Unique points: Joints with joinery -> (Joint width> = 5 mm)
These recommendations are the minimum dimensions to consider. The particularities of each project may make it necessary to place the joints at a smaller distance or in another arrangement. Pavement joints must be taken into account from the project phase. The correct design and dimensioning of the joint pattern, together with an adequate choice of materials and correct execution of the installation will help prevent the appearance of pathologies.
Placement
Extend abundant grip material on the surface where the floor is to be installed.
Then, put the ceramic tiles right where you are going to put the profile.
Dispense the profile longitudinally aligned with the corner of the baldasas and fasteners with cement.
Continue adding the baldasas to the profile to complete the installation. Before the fraguado takes place, tap gently with a stick of gum to fit the profile with the floor if necessary.
Finally clean the excess material and let it dry.
Cleanliness and maintenance
Cleaning must be carried out periodically with a soft cloth. If you choose to use a neutral cleaning liquid, clear it with cold water and dry it to remove excess moisture. The persistent success can be eliminated with cleaning agents suitable for slightly abrasive cleaning or with a neutral colored octopus grating. If you apply a preserving agent, in addition to leaving a thin layer of water repellent, you should also remember that it must not be yellow, attracting the octopus to success without having any effects.
It is not recommended to use steel wool, abrasive products or paint strippers like acid fuels (hydrochloric and perchloric), fuel bases (caustic soda or ammonia) or carbonated solutions. Also, citric acid must be used to remove the protective oxide layer from the aluminum surface. Waxes, petroleum jelly, lanolin are similar in sound. Avoid dissolving solvents with haloalkanes (hydrofluoroethers or chlorinated solvents) and fragrance accelerants containing chlorides (use accelerants without chlorides).