Novojunta Pro Basic SP is a structural expansion joint or parts system for expansion joints up to 40 mm wide for installation in overlapping joints after laying the flooring. It consists of two 11 mm high aluminum side profiles with holes for fixing screws and a synthetic rubber profile that is inserted between them. Available in two colors and two finishes.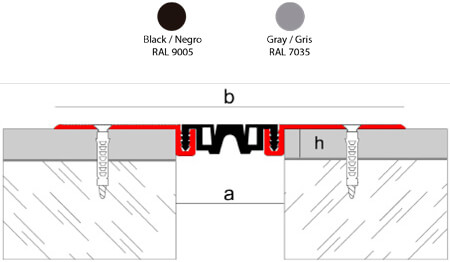 Characteristics
| | | | | | |
| --- | --- | --- | --- | --- | --- |
| Aluminum finish | a | b | h (mm) | Rubber type | Horizontal movement |
| Natural | 20 mm | 124 mm | 12,5 mm | Flat | 8 mm (+/- 4 mm) |
| Natural | 20 mm | 124 mm | 12,5 mm | Striated | 8 mm (+/- 5 mm) |
| Natural | 30 mm | 134 mm | 12,5 mm | Flat | 10 mm (+/- 5 mm) |
| Natural | 30 mm | 134 mm | 12,5 mm | Striated | 10 mm (+/- 6 mm) |
| Natural | 44 mm | 144 mm | 12,5 mm | Flat | 12 mm (+/- 6 mm) |
| Natural | 44 mm | 144 mm | 12,5 mm | Striated | 12 mm (+/- 7 mm) |
Technical characteristics
Abrasion resistance: Excellent

Weather resistance: Very good

Elasticity: Very good


Working temperature: -50ºC / +80 ºC
Applications

Buildings and construction elements are subject to deformations and geometric variations. The arrangement of expansion joints contributes to reducing the effects that these variations have on the building as a whole, preventing the appearance of pathologies.

The CTE (Technical Building Code) in its DB-SAE (Building Actions), establishes that in concrete or steel buildings, expansion joints will be arranged so that there are no continuous elements of more than 40 m. of length.

Novojunta Pro Basic SP is a solution for structural joints made up of two overlapping pieces of aluminum joined by a synthetic rubber profile with movement capacity. This profile absorbs the stresses and deformations produced in the construction elements, preventing the appearance of cracks or other pathologies. Ideal for placement on floors, walls and ceilings.

Novojunta Pro Basic SP is a lightweight, easy-to-install overlay profile suitable for light / medium load traffic. It is indicated in placement of joints once the pavement has been executed and in renovations or reforms.
Materials
Aluminum

The side profiles of Novojunta Pro Basic SP are made using aluminum extrusion. Aluminum is a material with excellent chemical and physical-mechanical properties. It is light, tough, ductile, malleable and highly durable. Its resistance to corrosion and fire is very good.

Aluminum is a highly valued material and used in various sectors, especially in construction.
Its transformation processes are multiple, so that very different geometries can be obtained with high performance. It is a recyclable material.

Synthetic rubber

The Novojunta Pro Basic central body is made of high quality synthetic rubber. This rubber has the ability to absorb multidirectional movements and has excellent mechanical properties: great elasticity, moderate resistance to weathering, resistance to moisture and wear due to abrasion and thermal variations (-50ºC / + 80ºC).
Supported traffic

Novojunta Pro Basic SP supports light / medium loads, including pedestrian and vehicular traffic. It allows the passage of vehicles with pneumatic wheels (DIN 1072) up to 30 kN.

Installation

The Novojunta Pro Basic SP model is delivered disassembled. The profiles are served cut to length 3 meters and the rubbers in rolls of 21 ml.

Clean the surfaces where you will install the gasket.

Place the profiles aligned with the edge of the joint. Make sure the width is adequate to accommodate the rubber later.

Machine the holes for the fixing hardware.

Fix the gasket with the supplied fixings.

Insert the rubber into the grooves of the aluminum profiles and align it with the surface. You can use a rubber hammer.
Cleaning and maintenance
Cleaning should be done periodically with a soft cloth. If you choose to use a neutral cleaning liquid, it should be rinsed with cold water and dried to remove excess moisture. Stubborn soiling can be removed with suitable mildly abrasive cleaning agents. If you apply a preservative, in addition to leaving a thin layer of water repellent, keep in mind that it should not be yellow, attract dust or dirt, or have iridescent effects.
The use of steel wool, abrasive or pickling products as well as strong acids (hydrochloric and perchloric), strong bases (caustic soda or ammonia) or carbonated solutions is not recommended. Citric acid should also not be used as it dissolves the protective oxide layer on the aluminum surface. Waxes, petroleum jelly, lanolin or the like are not suitable. Haloalkane solvents (hydrofluoroethers or chlorinated solvents) and setting accelerators containing chlorides should be avoided (use non-chloride accelerators).