Schlüter DILEX-AKWS is a maintenance free movement joint profile for tile and natural stone surfaces subject to moderate mechanical stresses.
Schlüter DILEX-AKWS offers secure edge protection for surfaces exposed to foot traffic or light vehicular traffic. The lateral anchoring legs, which feature trapezoidshaped perforations, are connected by a 6 mm wide, soft plastic movement zone. The side sections of the profile provide effective edge protection for the surface covering.
The relatively small width of the movement zone only allows for absorbing minor movements. This must be taken into account depending on project requirements.
Schlüter DILEX-AKWS profiles interrupt the transmission of sound within the surface covering and reduce the transmission of impact and airborne sound.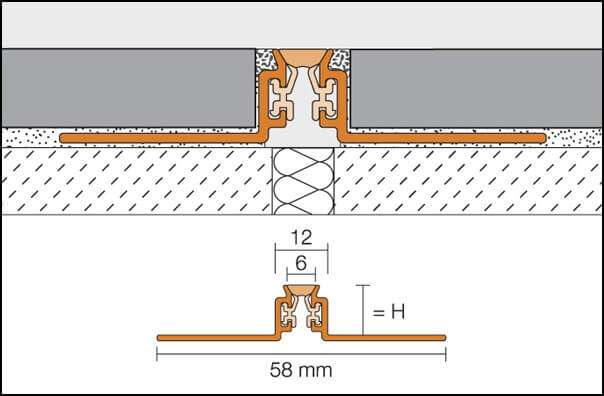 Material
Schlüter DILEX-AKWS consists of two aluminium side sections with trapezoidperforated anchoring legs, and a centre movement zone made of soft plastic with clamps made of hard plastic.
Material properties and areas of application:
The suitability of a proposed type of pro- file must be verified based on the anticipated chemical, mechanical and/or other stresses.
The side sections with anchoring legs are made of aluminium, which is sensitive to alkaline substances. Cementitious materials, in conjunction with moisture, become alkaline. Exposure of the profile to the alkali (depending on the concentration and duration of exposure) may result in corrosion (aluminium hydroxide formation). In addition, ensure that the profile is solidly embedded in the setting material and that all cavities are filled to prevent the collection of alkaline water.
Installation
Select Schlüter DILEX-AKWS according to tile thickness.
Using a notched trowel, apply tile adhesive to the area where the profile will be placed.
Press the perforated anchoring legs of Schlüter DILEX-AKWS into the adhesive bed and align. The profile must align directly with expansion and movement joints in the substrate below.
Completely cover the perforated anchoring leg with tile adhesive. Apply tile adhesive to the vertical section of the profile leg at an angle.
Firmly press the adjoining tiles into place and adjust them in such a way that the upper lip of the profile is flush with the tile. Note: The profile should not be higher than the tile, but rather flush or up to approx. 1 mm lower. Always set the uncut section of a tile against the profile and ensure solid coverage at the profile area.
The tile is set to the side of the profile, which assures a uniform joint space of 1.5 mm.
Fill the joint between the profile and the tile completely with grout.
Maintenance
Schlüter DILEX-AKWS is resistant to fungus and bacteria and requires no special maintenance or care. The profiles are cleaned together with the tiles, using a conventional household detergent.